Interior Designer Creates Coastal Christmas Tabletop
 
Bring the beach home this Christmas! It's always fun to create a tabletop for your holiday meal with your existing accessories. In the midst of winter pull out all of your shells, candles and anything else that you may have to remind everyone of those warm days at the ocean.
Add Agapanthus in white, for a fresh Christmas floral arrangement by each table setting. Use a water bottle or whatever you have for the container. Think Beachy! As you can see, even the wine is Coastal appropriate!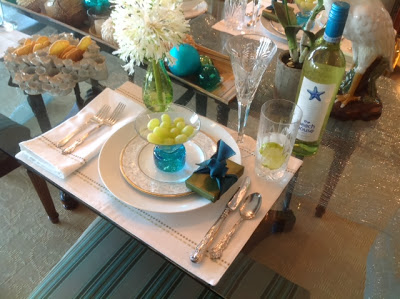 Here I have pulled out my Martini Glasses to bring out the colors of the Ocean.  It's fun to use antique mismatched Silverware for a more casual vibe as well!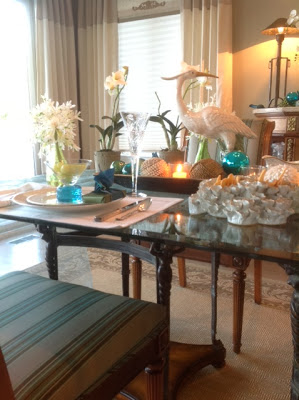 The Herons on the table make a great centerpiece with the low tray of shell balls and votives. Pull out all the accents that you are not using right now and you would be surprised what you can pull together.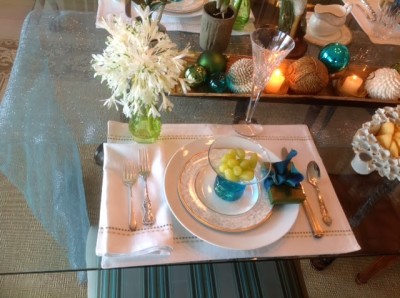 I have used a 12″ runner down the center of the table in a teal mesh with glitter from the ribbon department, at the local craft store. I've even had it drop to the floor on each side for a more dramatic look!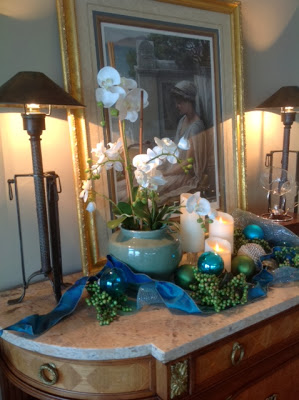 Don't forget to do a display on your sideboard! Here I have used those new battery operated flicker candles from Details, they look so real from a distance! I have reused some French Wire wide ribbon from last year and threaded it through a collection of Christmas balls and berry stems.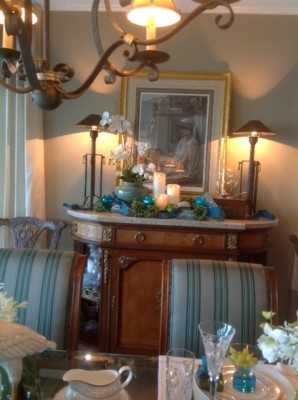 It is so satisfying when you have finished and you have used what you have on hand. The colors are refreshing and will be well received by your Guests this Holiday!
…and remember, if you don't have anything to work with for this fabulous Christmas Dinner Display, come in and see Marie at Details of Design and show her what you do have and I'm sure she can turn your drab into fab!
Gina Fitzsimmons, ASID